Often, we have data in an Excel file and we wish to quickly send SMS to our customer, family or friends. At SMSZone we understand it is not comfortable to everytime visit the website, upload the file to send an SMS. Keeping this in mind we have made an Excel Plugin, which would allow you to send SMS right from Excel without visiting any website. Download Excel Plugin from this link.
---
HOW TO INSTALL EXCEL PLUGIN ?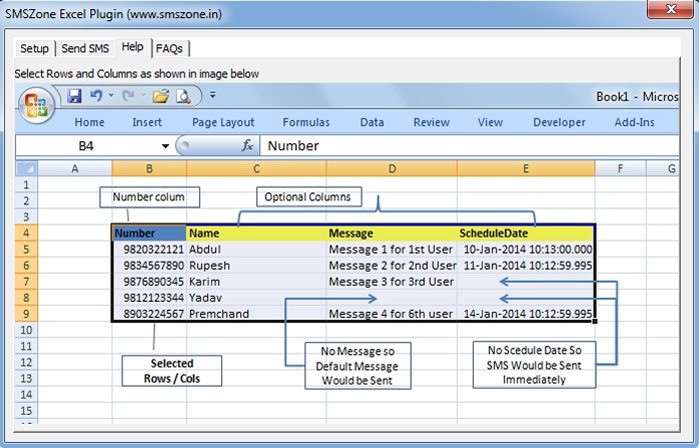 1) Download Excel Plugin from this Link and save in a folder c:\smszoneexcelplugin.
You can also install in any other folder of your choice.
2) Follow below guide lines for different Excel Versions
Open Excel.
Click the File tab, click Options, and then click Add-Ins.
Click on Browse Button and navigate to c:\smszoneexcelplugin folder.
Click Open and click Ok. Verify that the Checkbox next to the SMSZone Excel Plugin Ver 1 is checked . Now click Ok. You would notice a in ADD-In Tab two new buttons of SMSZone Excel Plugin Numbered 1 and 2 would have been added.
---
EXCEL ADD-IN
Refer to the list of troubleshooting tips below to help resolve any issues you may have after installing the Excel add-in.
Confirm that add-in was properly copied in correct directory.
Ensure that you have full administrative and unrestricted permissions to the directory where the add-in is being installed. If you do not have full permissions for the machine or location where the add-in is installed, the add-in may be installed under an Administrator account or a secondary account. Depending on the machine configuration or other policies, you may be able to copy the Add-in to appropriate folder. Excel add-ins are typically installed in one of the following locations:

Incase Add-in displays in add-ins list, but as disabled

: The add-in may have been automatically disabled by Microsoft Excel.

To help resolve this issue, do the following

:
Click the Microsoft Office button, click Excel Options, and then click Add-ins.
From the Manage drop-down list, select Disabled Items, and then click the Go button.
Select the SMSZone Add In, and click Enable.